Pack of 4 Crunchy Chocolate Chip Breakfast Cereals
26,00€ TVA incluse
Price per kg : 13,68€
Net weight : 350g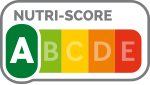 Description
Set of 4 breakfast cereals with chocolate chips, 18,16€ instead of 19,16
If you buy products in a set of 4, you save 1€.
All products have a long shelf life
NEW RECIPE !
For all the greedy ones concerned with their food, Dukan worked out a healthy alternative to the cereals of the morning traditional: extra-gourmand chips with the chocolate chips, crunchy and satiating thanks to the SOUND OF OATTLE.
They have the NISUFA guarantee (NO added sugar, NO white flour), they have a low glycemic index and are rich in fiber!
For a delicious breakfast or snack, dip them in a bowl of skim milk or cottage cheese.
INFORMATIONS NUTRITION
Ingrédients :
Céréales 60,8% (son d'avoine (gluten) 45%, flocon d'orge (gluten), farine d'avoine (gluten) 2,2%), fibres diététiques (polydextrose, dextrine résistante, inuline), chocolat 10% (matitol, pâte de cacao, inuline, beurre de cacao, émulsifiant : lécithines (soja), huile de tournesol, protéine de soja (protéines de soja isolée, émusifiant : lécithines (soja), édulcorants : steviol glycoside, isomalt et succralose, arômes, antioxydant : extrait riche en tocophéroles.
---
Mode de conservation :
À conserver à température ambiante à l'abri de la chaleur et de l'humidité.
---
Valeurs nutritionnelles :
Valeurs nutritionnelles moyennes Pour 100 g
| | |
| --- | --- |
| Énergie | 1696 kJ (406 kcal) |
| Matières grasses | 15,7 g (dont acides gras saturés: 3,1 g) |
| Glucides | 47,2 g (dont sucres: 2,3 g et polyols: 8,1 g) |
| Fibres alimentaires | 19,5 g |
| Protéines | 12,7 g |
| Sel | 0,17 g |
Indice Glycémique :

MÉTHODES
MÉTHODE CLASSIQUE
Ce produit en méthode forte
ESCALIER NUTRITIONNEL
Ce produit en méthode douce
*Dans le cadre d'une alimentation variée et équilibrée, et d'un mode de vie sain.