Bonbons Sans Sucres Fruit Gomme 100g
4,30€ TVA incluse
*Sans sucre ajouter
*0% Matières Grasses
*Le vrai grignotage sans péché.
*Hypoglycémique
Prix au kg : 43€
Poids net : 100g
Description
Des bonbons Fruit Gomme sans sucre, ça existe ? Oui, car alors vous n'avez pas encore goûté ce bonbon. En plus d'être sans sucre, Donc tu peux toujours prendre un encas même si tu es en régime. Quatre délicieuses saveurs de fruits dans un seul emballage ! En plus d'une expérience gustative délicieuse, c'est le vrai grignotage sans péché.
*Sans sucre ajouter
*0% Matières Grasses
*Le vrai grignotage sans péché.
*Hypoglycémique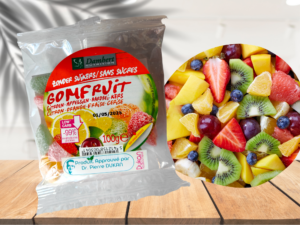 NUTRITION INFORMATION
INGREDIENTS:
Sweeteners (maltitols), vegetable oil (rapeseed, cotton), cocoa powder (8) hazelnut paste 8%, milk powder, whey protein (milk),skim milk powder,starch, emulsifier (soy lecithin) flavors (vanillin, hazelnut, chocolate). An excessive consumption can have laxative effects. Before opening, keep away from heat and humidity. After opening, keep refrigerated and consume quickly.
MODE OF CONSERVATION :
Before opening, consume preferably before: see on lid.
---
NUTRITIONAL VALUES :
Average nutritional values Per 100 g
| | |
| --- | --- |
| Energy | 1690 kJ (404 Kcal) |
| Fat | 25 g (of which saturated fatty acids: 2.8 g) |
| Carbohydrates | 64g (of which sugars: 4.2 g and polyols: 5.0 g) |
| Dietary fiber | 4.1 g |
| Proteins | 9.1 g |
| Salt | 0,03 g |
GLYCEMIC INDEX :

METHODS
CLASSICAL METHOD
This product in strong method
NUTRITIONAL STAIRCASE
This product in a gentle method
*As part of a varied and balanced diet and a healthy lifestyle.